DEPUTY MINSITER OF LOCAL GOVERNMENT ADMINISTERS OATH OF OFFICE TO NEWLY APPOINTED COUNCILLOR IN PORTLOKO.
By MLGRD Media Unit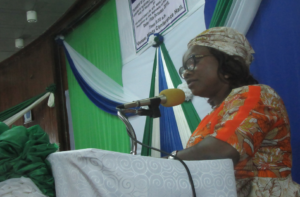 Deputy Minister of Local Government, Melrose Kargbo.
The Deputy Minister of Local Government and Rural Development, Melrose Kargbo has assured staff of the Port Loko District Council and residents in District of government's unwavering commitment to supporting the council in its strides to enhance socio-economic development in the district.  Speaking during the Swearing-in- ceremony of the newly elected Councillor of Ward 242, Kafu Bullom in the Port Loko District Council hall last week, Madam, Kargbo said it was the second time she was witnessing the historic event of ushering of a new councillor into the district council. She described the ceremony as a clear manifestation of a true democracy with different political party members in attendance. The development of the country he said lies in the hands of the twenty-two Local Councils nationwide and encouraged the newly elected Councillor to serve his compatriots well.  The Resident Minister, North-West region, Haja Isata Abdulai Kamara, called on the people of Port Loko District to be united and work towards promoting development in their district. She entreated the serving councillors in the district to work as a team to enhance development in their respective localities.  The Chairman, Port Loko District Council, Ibrahim Santigie Bangura said it is the tradition of the council to ensure that newly -elected councillors are sworn and ushered into office in presence of the Local Government Minister or his Deputy, noting that the event is in line with government's policy of filling a vacant position, following the death of the former councillor, Abdul Karim Sillah of Ward, 242 in chiefdom. The newly elected Councillor, Sheka Soriba Dumbuya assured government and the people of Port Loko of his determination to live up to their expectation and appealed for support. The event drew the attention of a huge number of political party supporters, council staff and local communities. Mr. Dumbuya polled 63. 6 of the entire vote cast at the election and was declared winner by the National Electoral Commissioner, Nfa Alie.