MINISTER OF LOCAL GOVERNMENT RECEIVES BRAND NEW RUSSIAN DUMP TRUCKS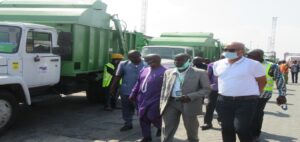 Minister of Local Government, (2nd from left) and team inspecting the new trucks at the Quay.
The Minister of Local Government and Rural Development, Tamba John Sylvanus Lamina , has  received and inspected Fifty brand new Dump  Trucks, donated by the Government of Russian Federation to the Government of Sierra Leone at the Queen Elizabeth  Quay, Cline Town, Freetown.
The consignment is part of 200 Dump Trucks which the Russian government promised to donate to Sierra Leone during President Julius Maada Bio's visit to that country, last year.
Receiving the trucks, the minister who was accompanied by the Permanent Secretary of his ministry, Thomas Lansana, Sierra Leone's Ambassador to Russia and senior management staff of the Sierra Leone Shipping Company, said the gesture will further strengthen the existing cordial relations between the two countries.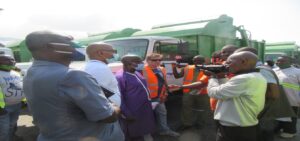 The Minister and entourage answering questions from the press.
He was impressed with the high quality of the vehicles which he added is in fulfillment of the donors pledge and thanked them for the gesture. The items, he said will contribute immensely to the country's waste management programme and re-echoed President Bio's clarion call on all to help develop the country. He informed the public that the trucks will be officially commissioned by President Julius Maada Bio in a grand ceremony at any time from now.
A representative of the manufacturers, GAZ, Lebonov Mikhail, described the trucks as   "State-of the-Art vehicles, designed to suit the country's waste management requirements.