AS NATIONAL BIOMETRIC VERIFICATION EXERCISE KICKS OFF
———MINISTER OF LOCAL GOVERNMENT ASSURES CHIEFDOM FUNCTIONARIES.
               By Max A. Konneh, MLGRD.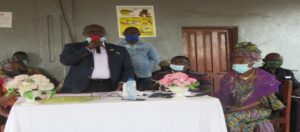 Minister of Local government, Tamba Lamina, addressing the gathering.
The Minister OF Local Government and Rural Development, Tamba John Sylvanus Lamina has assured Local Chiefdom Functionaries of government's profound determination to improve their conditions of service. Mr. Lamina gave this assurance whilst witnessing the beginning of the first, National Biometric Verification Exercise for Chiefdom Functionaries in Bakeh Loko Chiefdom, Port Loko District.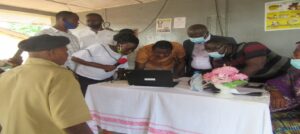 Organized by the Ministry of Local Government in collaboration with the Ministry of Finance and National Civil Registration Authority, NCRA, the programme which started on 18th November, 2020 will end on 26th November, 2020.
 Addressing stakeholders, including Chiefs, Chiefdom Clerks, Chiefdom Police, Tax Collectors and Bailiffs at the Bakeh Loko Native Court Barray,  Mr. Lamina said the long waited exercise is aimed at "Tyding up" the payroll, prior to increasing salaries of Chiefdom Functionaries as promised by President Julius Maada Bio.

Verification exercise in progress
Acquiring authentic and reliable data, he said, will also facilitate and strengthen critical stakeholders at local level who have been forgotten over the years by previous governments. Whilst expressing his heartfelt condolences to the people of Port Loko for the loss of some of their great leaders, he described Chiefdom Authorities as "Nucleus of development".  He urged them to take the process seriously and ensure participate fully.
Welcoming guests earlier, Chiefdom Speaker of Bakeh Loko, Malarpy Tarawally, described the minister as the "Mainstay" of the Local Government family and commended him for the numerous strides he has been making in promoting local governance in the country. He on behalf of his compatriots, thanked government for considering them and pledged their unflinching support at all times.

A cross-section N.A. Police Officers
Giving an overview of the exercise, the Deputy Director, Policy and Planning, NCRA, Haakawa Morseray, called for the cooperation of all concerned to enable them provide accurate and reliable information and data that would help government plan well  for development. Acting Senior District Officer,  PortLoko district, Alpha Sowa who chaired the programme,  informed the gathering that the district was relative peaceful as they have done their best to ensure sanity prevails in the region and looked forward to the holding of Paramount Chief Elections as there are currently only four substantive Paramount Chiefs in the entire district.
 He thanked government   for increasing the salaries of Paramount Chiefs and other local authorities and entreated them to help government raise more revenue. One of the longest serving Chiefdom Police Inspector in Portloko District,   Peter Turay, Regent Chief in Mara Chiefdom, Ibrahim Dawo  and other responders, described the exercise as "unprecedented" noting that it will restore respect and dignity to the institution and also  ensure sanity.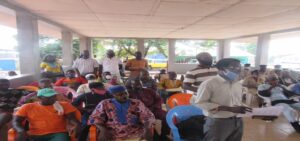 Verifying young N.A. Police Officers at  Mara Chiefdom, Bombali District.
 They thanked government for taking what they referred to as a "bold step" in addressing their plight. The Regional Registration Officer, North-West, NCRA, Daniel Kanu lauded the efforts of stakeholders and described the exercise as an "ideal initiative" He however noted some of the challenges they are facing, including  lack of easy access to hard-to-reach areas but was  optimistic that they will be surmounted.
 Other Stakeholders at the ceremony.