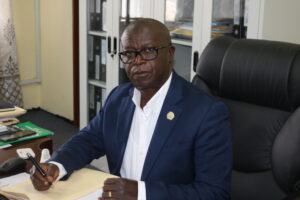 H.E Tamba Lamina took up office as minister of Local Government and Rural Development in July, 2019.
Tasked with responsibility of overseeing service delivery in twenty two Local Councils and one hundred and ninety chiefdoms across the country.
The minister is mandated to provide political leadership for decentralization and local governance which include provision of policy oversight and monitoring local councils and chiefdom administration in Sierra Leone.
Prior to his current role, H.E Tamba Lamina was Sierra Leone's High Commissioner to the United Kingdom. He Lived and worked in the United Kingdom for over  two decades .As a former care professional, Mr. Lamina hold over 20 Years of strategic managerial  and leadership experience within the UK national Health Sector, having worked for renowned organization like the national health services, BUPA and care UK Ltd.
He undertook graduate studies in furah Bay Collage Sierra Leone and completed post- graduate studies at Kings Collage University London, where he holds a M. Sc degree in Professional Leadership in healthcare. Mr. Lamina also holds qualification in various fields of studies including Journalism, politics, philosophy and education.
An enthusiast for community relations, Mr. Lamina has led various sierra Leonean organization including the Sierra Leone People's Party UK and Ireland Branch.
His hobbies include playing tennis, swimming, cycling and reading.
H.E Tamba Lamina is married with four children.