AS FIGHT AGAINST CORONA VRUS INTENSIFIES
———PLANS TO RELOCATE TRADERS.
By MLGRD MEDIA UNIT
Mayor, Yvonne Akie- Sawyerr, Tamba Lamina and Fuad Daboh at Sewa Grounds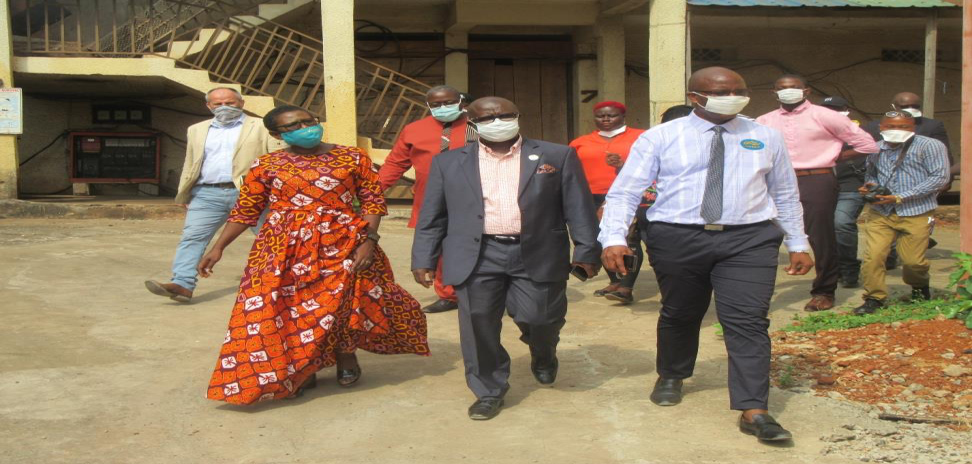 Ibrahim Yelenkeh, Yvonne Akie Sawyerr, and Tamba Lamina at the National Stadium.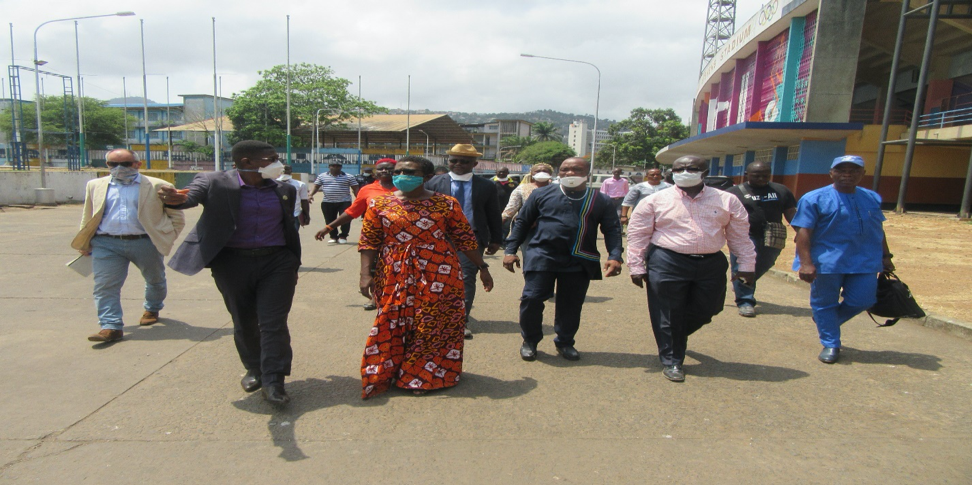 Freetown, 8th April, 2020 (MLGRD)- In addition to a number of steps taken by government and partners to reduce the spread of the Corona Virus disease in the country, a high profile team of government officials, comprising the Minister of Local Government and Rural Government, Tamba Sylvanus Lamina,  Minister of Youths and Sports, Ibrahim Yelenkeh, Director-General of NASSIT, Fuad Daboh  has in collaboration with  Freetown City Council and the National Traders Council, concluded  a one-day  assessment  visit to  Sewa  Grounds Market, Brima Attouga football Complex, Parade Football Playing Field and  the National Stadium in Freetown.
According to the Minister of Local Government, the objective of the visit is to assess existing facilities in those places for possible relocation of traders to ensure that the spread of the Corona Virus is prevented through the practice of social distancing guidelines.
As a responsible  government, he said they are greatly concerned about what is going on in market places during this "unusual period'' and have therefore decided to put a temporal halt on the situation until the crisis is brought to an end. He welcomed the traders concerns and assured them that they will be fully cared for when the facilities would have been provided. . He hoped the traders will cooperate with them to ensure the Corona Virus is prevented from spreading.
Mayor of Freetown, Yvonne Akie Sawyerr said the move is in line with government's clarion call on all to help prevent the spread of the virus through   social distancing. She said the areas visited are not permanent locations for the traders but meant to reduce street trading and overcrowding in the markets. The Public Relation Officer of the Sierra Leone Traders Council, Ibrahim Baber Kamara said they are quite aware that this is an emergency period and assured government of their full cooperation.
Mr. Kamara called on government to enforce the Municipal Trade Act which forbids Wholesalers from retailing. A breach of this Act, he said will put them in a disadvantage position. He appealed for conducive trading environment. Over twenty five markets in the Western Area have been identified for relocation to various parts of the city as a temporary measure.