Kambia Town, 23 February 2022- The Minister of Local Government and Rural Development, Amb. Tamba Lamina has presented 13 newly elected Paramount Chiefs (PC) to President Bio for coronation ceremony as enshrined in the 2009 Chieftaincy Act.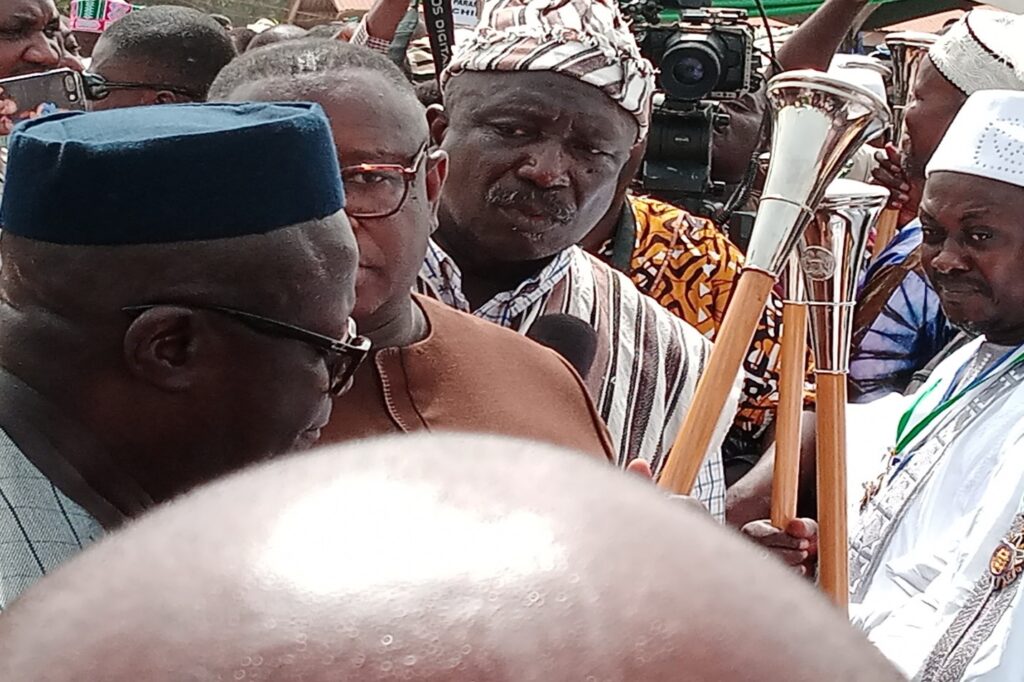 It is a statutory provision in part 5 sections 17(a) of the 2009 Chieftaincy Act for newly elected Paramount Chiefs to receive official endorsement by the central government in further cementing their traditional cardinal roles in the general administration of their respective Chiefdoms. It was on this note that Minister Tamba Lamina presented the 13 newly elected Paramount Chiefs from Pujehun, Moyamba, Bo, Tonkolili, Koinadugu, Karene, Falaba and Kambia Districts.
"Your Excellency, Sir, I am delighted today to present to you 13 newly elected Paramount Chiefs for coronation. They should have been 14 in number, but one of them became irreversibly sick before today," announced the Minister with a sign of empathy on his face.
He explained the free and fair electioneering processes that the 13 PCs went through and emphasized on their uniqueness as he said they were the only set of elected PCs that went through induction and orientation ceremony.
After issuing the staffs and hanging the medals on the 13 PCs, President Bio reiterated his commitment of dignifying Paramount Chiefs in Sierra Leone but said the process in achieving that should be a collective effort for him and the Chiefs.
"As a Paramount Chief, you would only be dignified in your Chiefdom based on how you rule your subjects. This is because most of them are young and troublesome and nearly half of the time, they only come with problems rather than solutions but the ability to manage such is what makes you a leader," stated the president whilst congratulating and urging them to always consult the Local Government Ministry if there is any doubt in the course of their duties.
He continued by highlighting major achievements of his New Directions' Government and cited the Free Quality Education as an example. He added by entreating the residents of Kambia Districts to support his vision as there are many developmental projects on the pipeline for them including water and electricity.
In a brief interview, the Paramount Chief of Fakunya Chiefdom in Moyamba District, PC Samuel H. Bengeh, expressed delight for the ceremony and assured that all the advice given by the President would be put into practice in the process of ruling their subjects. He ended by assuring to work with all Chiefdom stakeholders for the betterment of same.