Hon. Tamba S. Lamina addressing Journalists.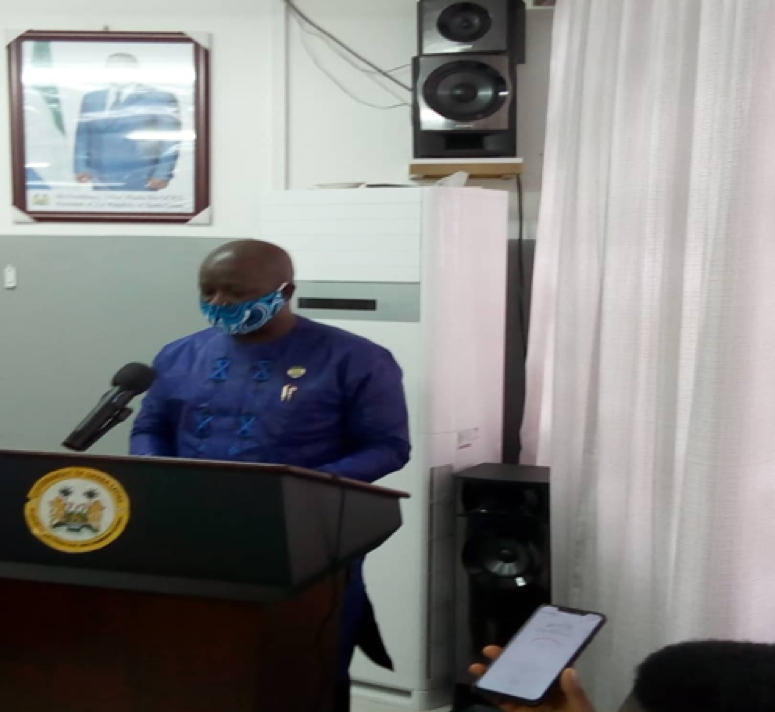 The Minister of Local Government and Rural Development, Tamba Lamina, has disclosed that the Ministry together with the Freetown City Council (FCC) have agreed to put on hold the property tax earlier imposed by the FCC. The Minister made the disclosure on Friday 26th June at the Conference Hall of the Ministry of Information and Communication at Youyi Building in Freetown.
The decision followed a fruitful deliberation on the issue between the Ministry of Local Government and the Freetown City Council. The Minister said his ministry asked FCC to put the tax imposition on hold because "it is not timely for FCC to impose such tax, taking into consideration the current Coronavirus pandemic which has undoubtedly ravaged most if not all the countries in the world".
He furthered that his ministry and the Government of Sierra Leone are not against reforms or revenue mobilisation by the FCC, saying due process was not followed. He said the Local Government Act makes provisions for the imposition of property tax, which the FCC did not follow. Minister Lamina said before imposing such a tax there should have been adequate consultation by FCC, "just so that the people will take ownership of the imposed property tax".
Moreover, he said before imposing such a tax, the Ministries of Local Government and Finance together with FCC should have sat down and drawn guidelines. He added that core FCC staff should have inserted a buy in to ensure that there is sustainability in the imposed tax.   The Minister said they will further engage FCC on the tax so that they follow due process, adding that the relationship between his ministry and FCC remains cordial. He said the Mayor of FCC will address property owners that have started paying for their properties.